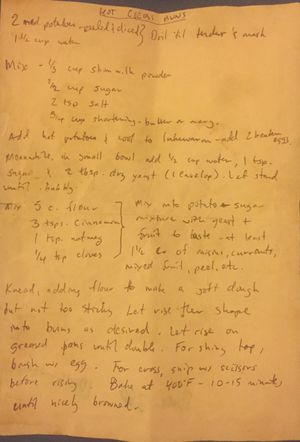 Food has always been an important part of family celebrations. Each holiday had it's traditional foods that have their origin partly in my Scottish heritage but perhaps even more strongly in my mother's Mennonite background since she did all of the cooking in our house. Food was such a central part of family life that even the threat of punishment for childhood misdeeds was to be swatted with a wooden spoon.
The kitchen was the centre of my childhood home and where my mother, a university trained chemist, experimented in culinary science. She combined the traditional recipes her Mennonite ancestors had collected as they fled persecution across Europe to the new world and combined these traditions with cuisines she discovered in magazines and newspapers to create her own unique culinary style. Had she been born a generation later, she would have no doubt been a successful recipe blogger or maybe even a Food Network star. Now that she has passed the wooden spoon on to the next generation, I feel obliged to try to share more widely the joy that food brought to our family celebrations.
Easter in our house meant two things, paska and hot cross buns. Paska was a sweet yeast bread that my Mennonite ancestors likely adopted during their stay in the Ukraine before the Russian Revolution drove them out of Europe to Canada. Although delicious, especially when toasted and slathered in butter, hot cross buns were the perennial Easter favourite in our house. We even modified the nursery rhyme "Hot cross buns, hot cross buns, one a penny, two a penny, hot cross buns" to more accurately reflect our love of hot cross buns:
Hot cross buns
Eat them by the tons
One a penny, two a penny
Hot cross buns!
I'm sure if you added up the mass of hot cross buns we consumed, it would be in the tons. At some point prior to Easter, there would be a day at our house when every flat surface in the kitchen was covered in hot cross buns rising or cooling. Always best consumed fresh out of the oven, I enjoyed them at all times of the day. Split and toasted with butter and marmalade for breakfast or stuffed into my pocket for a snack while doing some early spring fishing for St. Lawrence River perch. Not sure I ever tried making a perch roll with a hot cross bun, but I can almost taste it.
If the Internet is to be trusted, hot cross buns are of English origin and represent the end of Lent - the cross obviously being the symbol of the crucifixion of Christ. They were traditionally made on Good Friday and it as claimed they would not mold and could cure illness and prevent shipwreck. The cheeky Aussies produced a "not cross" bun that substitutes the cross on the top of the bun with a smiley face.
Regardless of history and traditions, they are delicious. Here is our family recipe for hot cross buns both traditional and my adaptation for bread maker in case you have one of those languishing in the back of your pantry. I'm going for traditional this year so follow me on Instagram or Twitter to see how it goes.
Hot Cross Buns 
2 medium potatoes - peeled and diced, cook until tender and mash
1 ½ cup water 
Mix:
1/3 cup skim milk powder
½ cup sugar
2 tsp salt
¾ cup butter 
Add hot potatoes and cool to lukewarm - add two beaten eggs. 
Meanwhile, in small bowl add ½ cup water, 1 tsp sugar and 2 tbsp dry yeast (one envelop). Let stand until bubbly. 
Mix:
5 cups flour
3 tsp cinnamon
1 tsp nutmeg
¼ tsp clove 
Mix with potato and yeast starter plus dried fruit to taste - at least 1 ½ cup of raisins, currants, candied peel, etc. 
Turn out on to a floured surface and knead adding flour as needed to make a soft, not too sticky dough. Let rise then punch down and shape into as many buns as desired. For shiny top, brush with beaten egg. For cross snip with scissors before rising. 
Bake at 400F for 10-15 minutes until nicely browned. 
Bread Maker Adaptation: 
1 potato peeled, diced, cooked and mashed with ¾ cup water
1 egg beaten
2 ½ tbsp skim milk powder
¼ cup sugar
1 tsp salt
3/8 cup butter
2 ½ cup four
1 ½ tsp cinnamon
½ tsp nutmeg
1/8 tsp cloves
¾ cup mixed fruit
2 tsp dry yeast 
Run on dough cycle. Divide into 8-12 buns and brush/ snip as indicated above. Let rise and bake at 400F for 10-15 minutes until nicely browned.