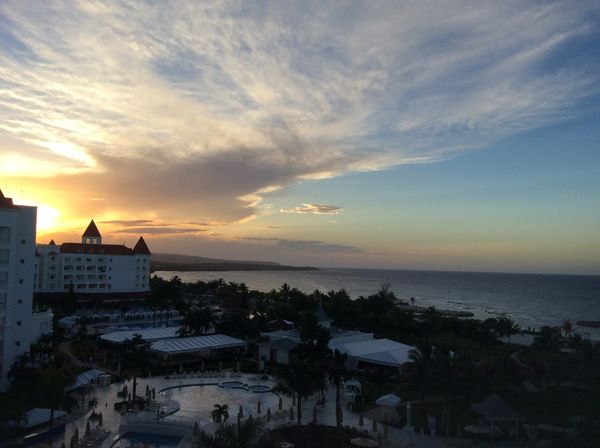 Travel isn't always pretty. It isn't always comfortable. Sometimes it hurts, it even breaks your heart. But that's okay. The journey changes you; it should change you. It leaves marks on your memory, on your consciousness, on your heart, and on your body. You take something with you. Hopefully, you leave something good behind. - Anthony Bourdain
Landed last night in the middle of a snow/ice storm from the sunny island of Jamaica after spending a week there at an all-inclusive resort. It was everything we expected it to be - hot weather, sand and ocean breezes, great food and drink, friendly staff, entertainment, luxury accommodations and beautifully landscaped grounds. But there was something missing that I really didn't experience until I ventured off property to meet with a former student who was working in Jamaica.
As we sat on the deck of a quiet outdoor bar enjoying a cold Red Stripe and the cool breeze blowing in off the turquoise waters of Discovery Bay, I realized that the resort vacation reveals very little of the real country. The staff of the resort are fantastic - fun, friendly and working hard to make sure everyone is having a great time. The resorts provide career opportunities and an economic boost to the local population, but it really just a vacation and not travel.
Resorts are like the Walmart of travel working with the economies of scale to provide a carefully curated safe and sanitized version of a travel experience within the guarded walls of the resort. A few carefully screened local characters are allowed to hang along the corners of the beach providing a few crafts and ganja to the hard partying vacationers. You get on your bus at the airport, go to the resort and then return by the same route at the end of your vacation. Perhaps you venture off resort but most likely as part of a guided excursion. Few seek the opportunity to really see the country and meet the people preferring the cold beer, piña coladas and bountiful buffets.
Most fear the dangers thought to be lurking beyond the resort. While crime and danger exist, there are many precautions you can take to avoid it beginning with common sense - enlisting local knowledge, avoiding known areas of crime and paying attention to your gut feelings. Resorts may exaggerate the danger in an attempt to keep you as a returning resort customer using their paid services to tour outside the gates.
What if I stepped outside of my comfort zone and connected more closely with the locals. I would have a more meaningful relationship with someone renting out an apartment or house, a hired driver, a local shopkeeper or the staff of a local bar or restaurant than I would with the bartender serving hundreds of thirsty resort revelers. My travel dollars would have greater impact with less going out of the country to the foreign owned corporate resort chains.
It is more uncomfortable and unpredictable stepping outside of the resort experience. I will see and meet people living in very difficult situations. The greatest benefit is that it provides the opportunity to use travel as a means to change my heart and cultivate compassion and understanding.